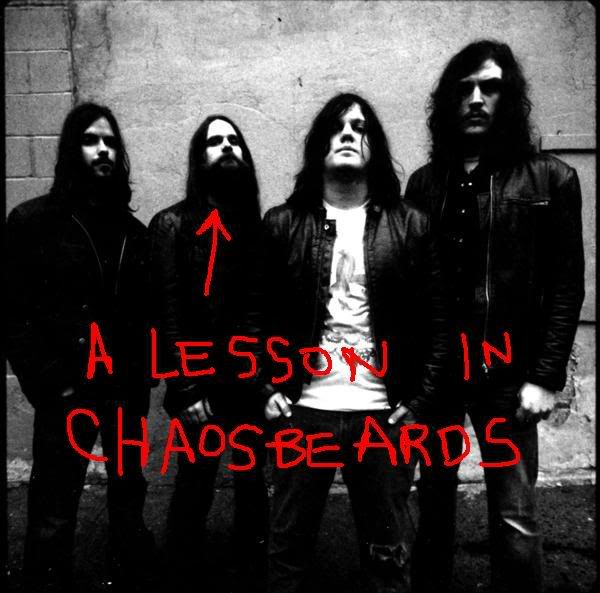 LA ROCHE ET ROULE

There are a pant-load of things that attract me Metal music. Too many for me to bother getting into now but it's not really that complicated to figure them out. One thing that applies to this post though is quite simply the attitude of it. Yeah, it sounds pretty lame but it's true. Sometimes you just can't deny a raised clenched fisted moment courtesy of a good bit of attitude in your music. Obviously Metal isn't the only music where attitude plays a factor which is why if I'm not listening to it I'm usually enjoying Lynyrd Skynyrd, Van Halen and The Allmans. That's some serious clenched fist motorcycle rock with some attitude to spare.

So, while the previously mentioned bands are now considered classic rock they were not labeled as such when they were first starting out. This is interesting because in our modern age of flash in the pan rock it happens all too often where "this new band is so classic rock maaaan". No they're not, they're just rock with no chance of becoming classic. Just because you're from Australia and you play chords doesn't make you AC/DC mainly for two reasons, the songs aren't as good, and Angus Young. Just because you play slow blues based riffs doesn't make you Sabbath for four reasons, the songs aren't as good, Ozzy Osbourne, Tony Iommi and Supernaut. And lastly, just because you play blues licks and have a high pitched singer sure as hell doesn't make you Led Zeppelin for forfty reasons. Most notably being groundbreaking production, crazy tunings, stunning acoustic songs, Page, Plant, Jones and the greatest rock drummer ever John Bonham (it's the high-hat, you should know what I'm talking about).

Ugh, this post is stressing me out. Anyway, this brings me to Priestess, a band from Montreal who I'm pleased to say are showing a bunch of potential. They're not hiding their influences but they're willing to take those influences and craft them into a sound that defines them as opposed to adding themselves to the pile of imitators. They also write catchy songs with good melodies and have a good understanding of how to keep things interesting. This being said, and given my devotion to the Allman Brothers Band, the fact that they utilize harmonized guitar lines is a sure-fire way to reel me in.



Talk to Her

– Good clean rock with a steady fist-pumping pace and a super catchy chorus. Are those maracas? Nothing like some Latin percussion to stir things up. It's clear that these guys respect the importance of guitar tone and don't feel the need to hide behind a mess of dirty gain.

Their

MYSPACE

has a few more songs from their solid record Hello Master which looks like is getting a big-time re-release. Good for them. They're also touring right now (I don't think they actually stop touring so it would probably be more worth mentioning if they weren't on the road, lucky for you they are). They're playing the Horseshoe this Thursday June 8th so check them out.

Sidenote: If you here someone say that ______ is the new Van Halen you can punch them in the neck screaming chaosbeard.

Sidenote part2: There will never be another Van Halen.