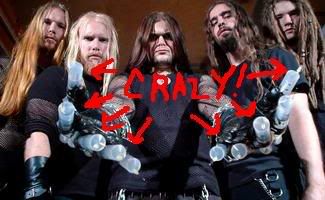 OVER THE TOP, DOWN, AND BACK AGAIN



When a fellow bandmate

brought these guys to our attention their music was like a swarm to some of us. We just couldn't get enough. Impious is another band from Sweden where apparently children are bred to shred. Not much else to say really, their music is nuts.

The record Hellucinate constantly delivers with strong moments and big pay-offs. I was tempted to go with the song Wicked Saints(a personal favorite) but I don't have that much bandwidth so you're going to hear the first song off the album called Inject. It's pretty punishing, if you've never heard them you've been warned.

highlights - YAAAHHHHHHHHH, aka the whole beginning.
- the drum work at 2:19, oh and pretty much everywhere else



INJECT





Sidenote - In most pictures of the band the singer has needles on his fingers, that's crazy.